Say cheese…! Today we are all about cheese because..who isn't? The nutty gouda, the milky mozzarella, the slightly bitter parmesan and the earthy-flavored cheddar, you name it. Everyone has his favorite cheese.
And when it melts, it brings all the flavors in a dish together with an additional creaminess.
Can I eat cheese in a keto diet?
This seems to be a question that everyone is asking, especially the keto diet beginners. And the answer is…Yes and no.
There are so many different types of cheese. And based on the milk they are made from and the way they are made, their nutritions vary.
So if you are a newbie that want to get into ketosis ASAP, or a strict keto-er, you may want to pay EXTRA attention to the types of cheese you use.
Don't worry, we've got you covered. Here are the common types of cheese and the carbs they contain per ounce.
That's to say, as long as you choose the low-carb ones, you can eat cheese in ketogenic diet.
To give you some more ideas to corporate cheese in your everyday keto meal prep, here are 22 low-carb and cheesy recipes from the best keto home cooks.
5 Keto-approved Homemade Cheese and Dip Recipes
Probiotic dairy-free keto cheese
Ever thought of making your own cheese on the Cheese Lovers' Day? These probiotic Macadamia cheeses from the Keto Diet App are a great project to try, especially for vegan keto-ers.
Low-carb dairy-free zucchini cheese
Nothing should stop you from indulging the creamy taste of cheese, ever when you are allergic to dairy. This zucchini cheese from Low Carb Yum is dairy-free, low carb and contains a great amount of dietary fibre.
Sounds too good to be true? Here is how to make your own.
One thing about making your own cheese is that you can add in a ton of different flavors to your liking, just like this Labneh cheese recipe.
If you have already made your first cheese, why not expand your "cheesy library" with this one?
Smooth and creamy cheese sauce
If you are having a hard time trying to pick your favorite cheese, you will love this sauce because…you don't need to pick just one.
This recipe brings 3 of the most loved cheeses, cheddar, Gruyere and cream cheese, together in one dip. It will instantly turn your water-boiled veggies into a dish to binge on.
Easy Herbed Goat's Cheese Dip
11 Low-carb & Savory Cheese Recipes
Goat cheese stuffed burgers
Talking about a recipe packed with cheesy surprise. The cheese hidden in the burger melts into your mouth when you bite through the juicy and moist ground beef. Make a ton of these burgers and put them in the freezer because this burger recipe will be your next weeknight favorite.
5-Ingredient Breakfast: Ham & Cheese Pockets
If you are looking for keto breakfast recipes, look no further. These 5-ingredient hot pockets are filled with melty cheese and ham. Even picky eaters will want more.
Cheesy cauliflower pizza bites
We have to include this pizza bite recipe in this list because it has two things that we love: cauliflower and parmesan (and pizza of course).
If you have enough fathead dough, this cauliflower pizza crust may just bring your tastebuds new excitement. And the appealing colors will make it look perfect on your Christmas table.
Nutty crispy baked cheese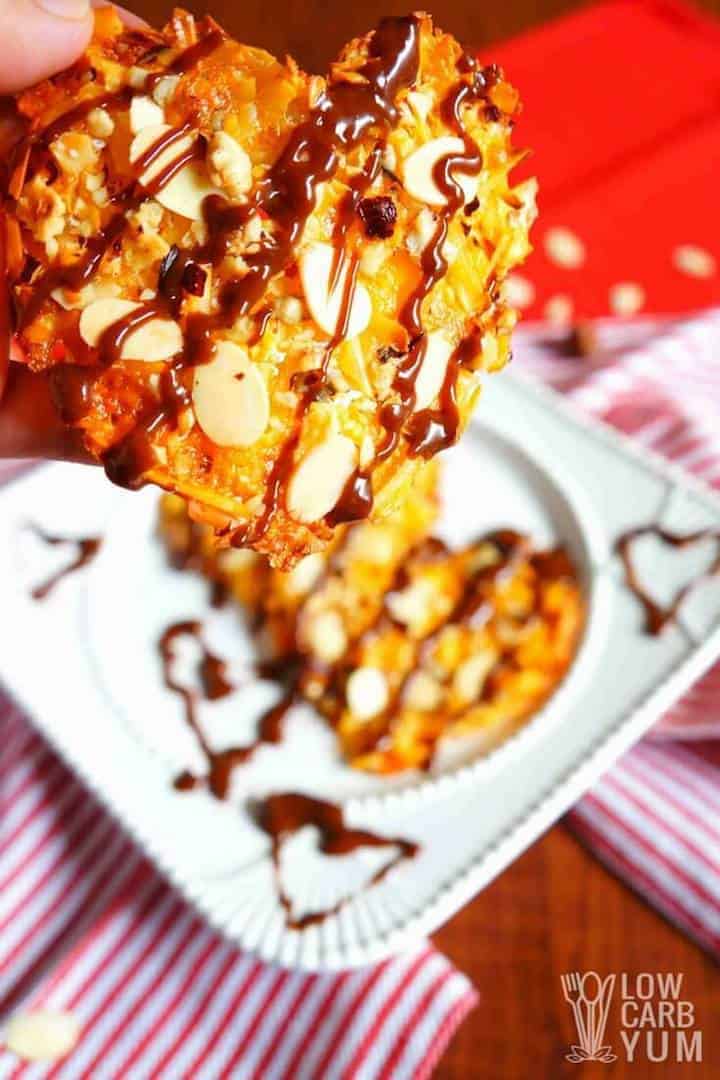 For cheese lovers, this low-carb cheese crisp from Low Carb Yum is a great snack to enjoy in the middle of the day.
If you are a sweet-tooth, the chocolate added on top will definitely burst your cravings. This will be an ideal treat to surprise your S.O. on Valentine's Day as well!
Check out the video down below to see how to cook it.
Smoked salmon with cream cheese
This keto appetizer is a solid proof that taste and healthy eating can go well together. Ditch the crackers on your next party because you'll fall in love with this delicious and nutritious low-carb recipe.
If your kids love meatballs, they will ADORE these cheese-stuffed meatballs.
Best part of it? These meatballs can be prepared in advance. Whenever you feel reluctant to cook a whole meal on weeknight, simply defrost and reheat. Easy, peasy.
Grain-Free Low Carb Ham and Cheese Scones
Easy to make and will be ready in no time, this ham and cheese scones are perfect alternatives to sandwiches. If you are looking for low-carb and healthy lunchbox ideas, don't miss this one!
Sausage & cheese omelet roll
Do you have your favorite breakfast food? For us, it has to be omelets. They are packed with good protein and rich, meaty flavors. This omelet recipe is no exception, only lower in carbs to keep you full and energetic for the whole morning.
Keto saganaki greek fried cheese
It may sound confusing how fried cheese is low-carb. Martina from Keto Diet App has replaced flour with flax meal and almond flour. If you love fried cheese but are reluctant to try the fried goodies, click here to see how to make your own keto breading.
Slow cooker spaghetti squash
Don't worry if you are not the "observer" type of home cook in the kitchen. Get your ingredients ready, put them in the slow cooker to auto-pilot.
The slow cooking process allows the spaghetti squash to absorb the creamy flavor of cheese. All that's left to do is to get your stomach ready and enjoy!
Easy Avocado & Goat Cheese Prosciutto Roll-Ups
Struggling to put your holiday appetizer together in the last minute? Roll up your sleeves, chop some avocados for this no-bake prosciutto rolls that take only 10 minutes to put together.
6 Keto cheese dessert and snack recipes
Cakes, crackers, cookies, we are done with this post without these low-carb desserts and treats. Keep scrolling for ideas to cure your sweet tooth!
3 gram net carb chocolate cake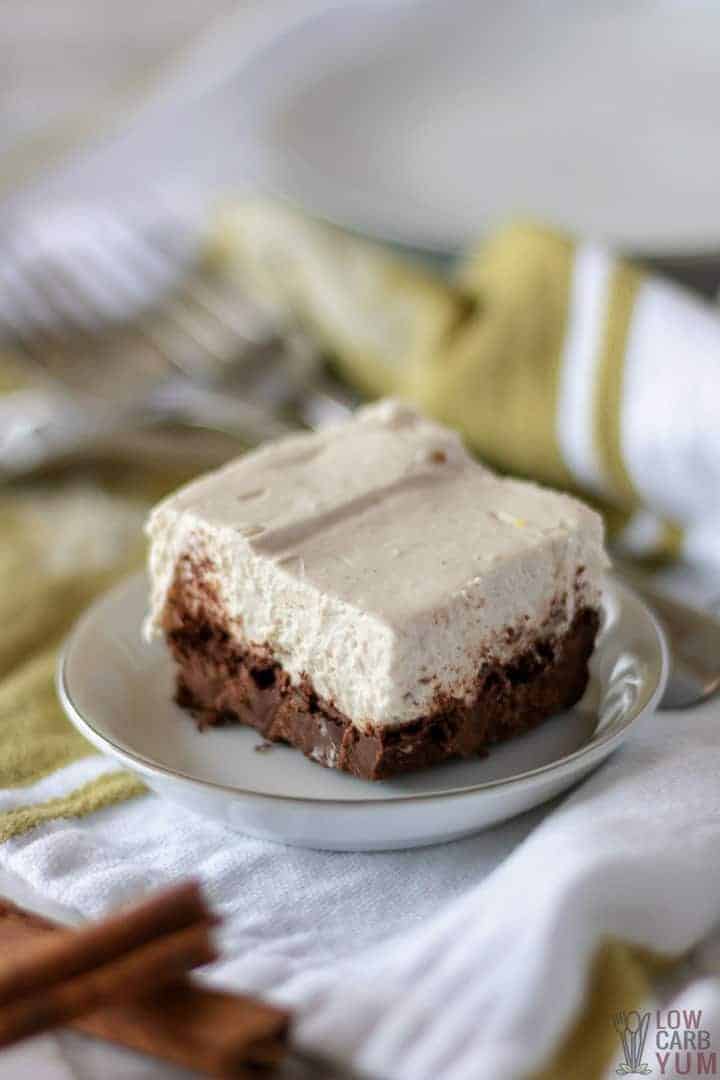 New York Style keto cheesecake
Low-carb raspberry trifle
Low-carb cream cheese cookies
Miss anything? Click to check again!